Oracle offers a number of well-integrated solutions available naively with the Oracle database, aimed at Data Protection & Disaster Recovery for enterprise data. These solutions, when used individually, or in combination with each other, or with complementary partner solutions that have been validated to be used with the Oracle database, offer businesses excellent flexibility in terms of the depth and breadth of the data protection and disaster recovery capabilities that the business wants to build into its IT infrastructure.
The data protection solutions available from Oracle are:
Oracle Data Guard
Oracle Data Guard is the most effective and comprehensive data protection and disaster recovery solution available today for enterprise data. Available as a feature of the Enterprise Edition of the Oracle database, it is a software infrastructure that creates, maintains, manages and monitors one or more standby databases to protect enterprise data from failures, disasters, errors, and corruptions.
It maintains these standby databases as transaction ally consistent copies of the production database. If the production database becomes unavailable because of a planned or an unplanned outage, Data Guard can switch any standby database to the production role, thus minimizing the downtime associated with the outage and enabling zero data loss.
Click here for an overview of the functional components of Oracle Data Guard.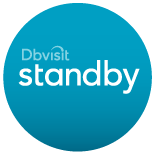 Business Continuity made easy!
Dbvisit Standby is already trusted by more than 1300 customers in 110 countries to protect their data from hardware and logical failures, natural disasters, human error and outages. It is the alternative to Oracle Data Guard enabling you to inexpensively protect your critical data infrastructure and get more out of your existing investment in Oracle Database Standard Edition.
Simplicity
With both a graphical user interface and access to the command line, Dbvisit Standby is very simple to install, configure and administer. It assists you in creating the standby database and includes all the tools and utilities to effectively and easily manage it. Dbvisit Standby is focused on keeping it simple including:
Step by step guided installation process
Optional templating function for easy recreation of standby databases
Customizable creation of the standby database
Option to script administrative tasks and run in batch mode
KPI creation and reporting
Threshold setting and automatic notification with conflict resolution
Automatic management of archived log files on the primary and secondary database
Fully Featured
Out of the box Dbvisit Standby provides features such as failover, graceful switchover, RAC, ASM and OMF, with a number of advanced features such as compression and encryption for archive log transportation.
Dbvisit Standby Features include:
Time-delayed standby database updating
Recover the standby database past unrecoverable archive log gaps
Run reports, backups and business analysis
Create multiple standby databases from the same primary
Apply different configurations to primary and standby databases
Transportable media support option for large databases
Rsync transfer on Linux and Unix
Automatic log resending and resynching on database rebuild
Secure
In the event of a failure Dbvisit Standby ensures applications switch over to the standby database in a matter of minutes, saving you the inconvenience of dealing with restoration delays, undue pressure on other systems and hardware unavailability. Every database change is replicated to the standby database and security is at the core of Dbvisit Standby's design.
Secure encrypted communication between all Dbvisit Standby components